Hello Lovelies!
I recently visited Movenpick in mall Of India, Noida and was absolutely shook and amazed by the platter of sweet tooth cravings that they offer!
From ice creams, waffles, pancakes, shakes to hot coffees and so much more! I am absolutely in awe with this place and hence want to share my experience with ya'all!
A passion for the extraordinary, the very best natural ingredients and the sophistication of the Mövenpick's signature flavors have always formed the basis of its refined creations. Recently visited their outlet in Mall of India, Noida which is their first boutique store they've opened in Delhi.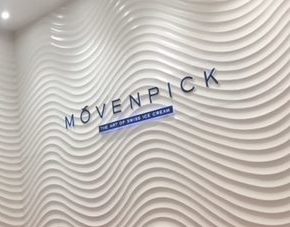 I recommend:
Ice coffee classic sundae : A glass of mouth-watering sundae served when you're craving for coffee since long; GOODNESS GRACIOUS! Yes, I felt that blast of coffee in my mouth. Expresso croquant ice cream laced with coffee sauce, biscuit and whipped cream, garnished with wafer did complete justice to my longing for a perfect coffee and dessert. It's a must try!

Romanoff Sundae: Placed on a bed of strawberry and kiwi fruit slices, a scoop of delicious vanilla and strawberry ice cream is topped with strawberry sauce garnished with whipped cream and mint leaves this artsy delight is treat for taste buds as well as eyes.

Swiss chocolate obsession waffles: Freshly baked, hot Belgian waffles served with Movenpick's swiss chocolate and Stracciatella ice creams, is something to savor! It's drizzled with decadent chocolate sauce and sprinkled with rich chocolate shavings.It's an absolute 10 on 10 scoring platter for any waffle lover.
Mini Pancakes with Ice Cream: Straight out of the oven, these fresh, light, golden pancakes served with Movenpick's special ice cream, taste heavenly. Topped with walnuts and maple syrup on top. They tasted truly heavenly!
Coffee: (Cinnamon Latte & Cappuccino):
Served with a small piece of Brownie, these coffees were undoubtedly one of the bestest coffees i've had in a longest while! Rich in froth, flavor & aroma, totally an energy booster! Must try here!

Chocolate fondant with raspberry and strawberry sorbet: With its gooey, chocolaty, molten center, this fondant is served with a scoop of raspberry and strawberry sorbet. The burst of chocolate lava from the middle of the fondant can melt anyone's heart.

Creme caramel obsession waffles: Take a chance to dig into the freshly prepared , crispy belgian waffles served with Movenpick's creme brulee and Caramelita ice creams.Drizzled with luscious caramel sauce and sprinkled with crunchy praline nuts, this waffle platter is worth to get obsessed with!

They are in Pacific Mall, Subhash Nagar, Greater Kailash, Mall Of India and Saket
Must visit once and do try the recommended items in the menu! You'd love it as much as I did!
Until Next Time!
Toodles 🙂
Manmeet K