Drinking juices from the regular road side juice walas had always given me bad vibes since the sloppy machines they used, the 'masala' they put in the juices, the fruits used and the dirty glasses in which they serve.. I have had not one but several bad experiences with the so called fresh juices at the roadside, that I had left all the hopes of having fresh juice, whenever I want.
But to all my dismay comes the MyGreens juices, something everybody should try!
My Greens claim to be: Perfectly Crafted, Cold Pressed Juices packed with nutrients & live enzymes from Fruits, Vegetables & Superfoods, ensuring that you become the best you.
✚ But first, lets read on what exactly are the "Cold Pressed Juices"
Cold press juices are the one's where the juicers use just enough pressure to extract the juice while preserving its vitamins, enzymes, trace minerals and overall nutrients up to five times more than any other juicer.
So basically, these juices don't lose their goodness for atleast 2-3 days from the date of manufacture!
Alright! So I got my hands on these great juices and here I am to give my honest review onto these cold pressed fresh juices that MyGreens have brought up as a bliss to the market!
I received this beautiful package in my mail <3 The package looks like this: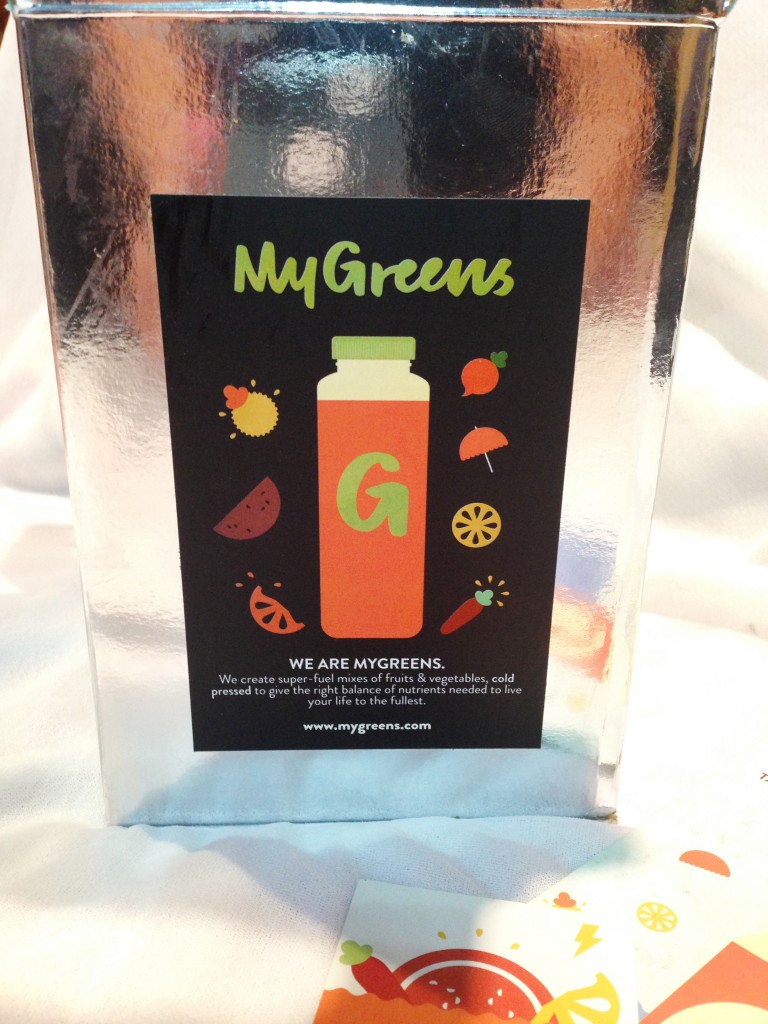 I got 4 juices in a shiny silver reflective box.
The company had written to me that the juices will reach my door between 6:30am to 9 am and voila! I got a call by the delivery person at 7:30 in the morning, and he was here to deliver the package.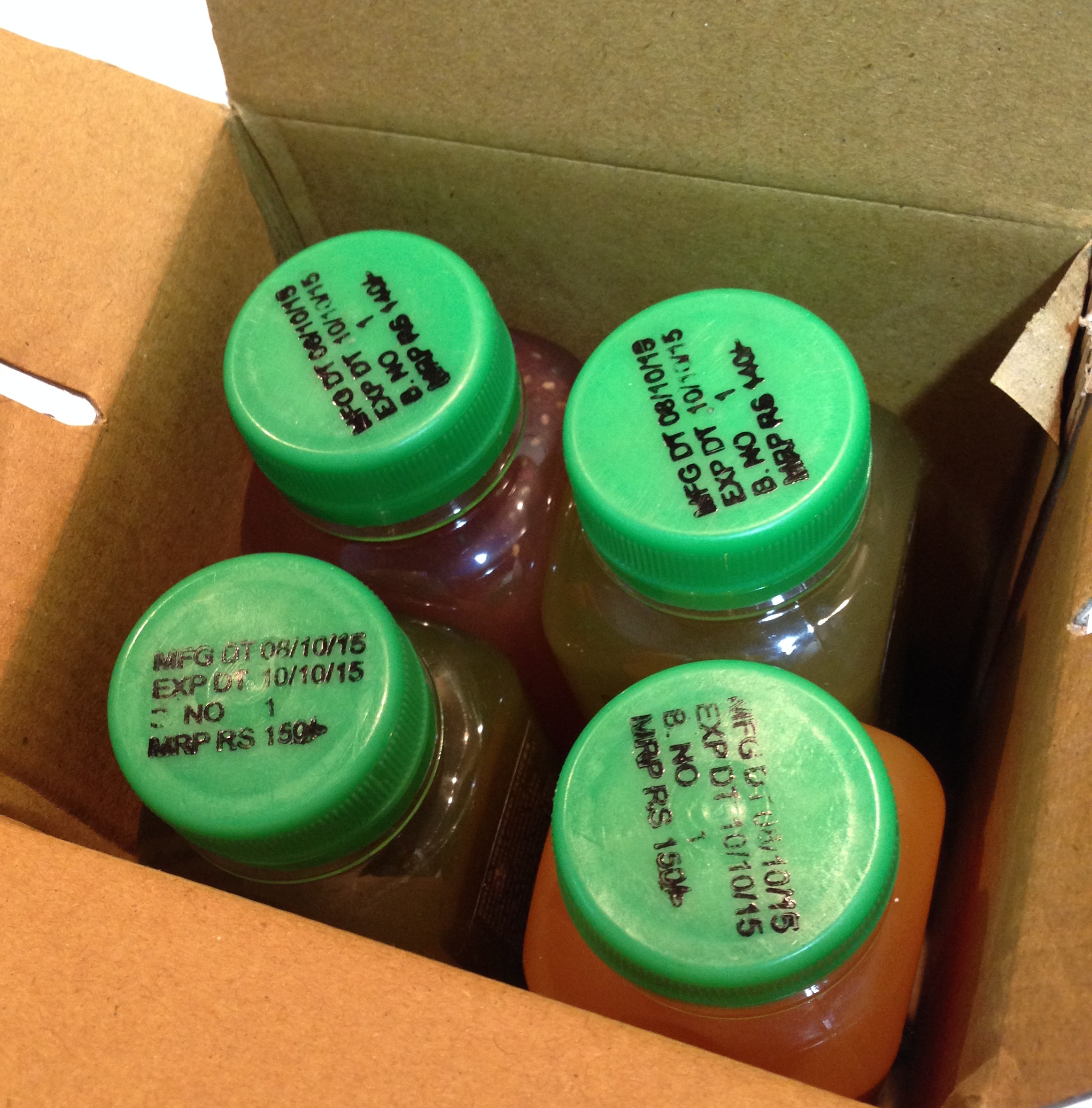 Package:
The packaging looks pretty sterdy and the bottles of juices are made of plastic hence, easily transportable and not prone to breakage. The spillage is not even a problem because the juices are tightly sealed.
Juices:
The juices I got and will review are:
1. CHARGE
Price: INR 150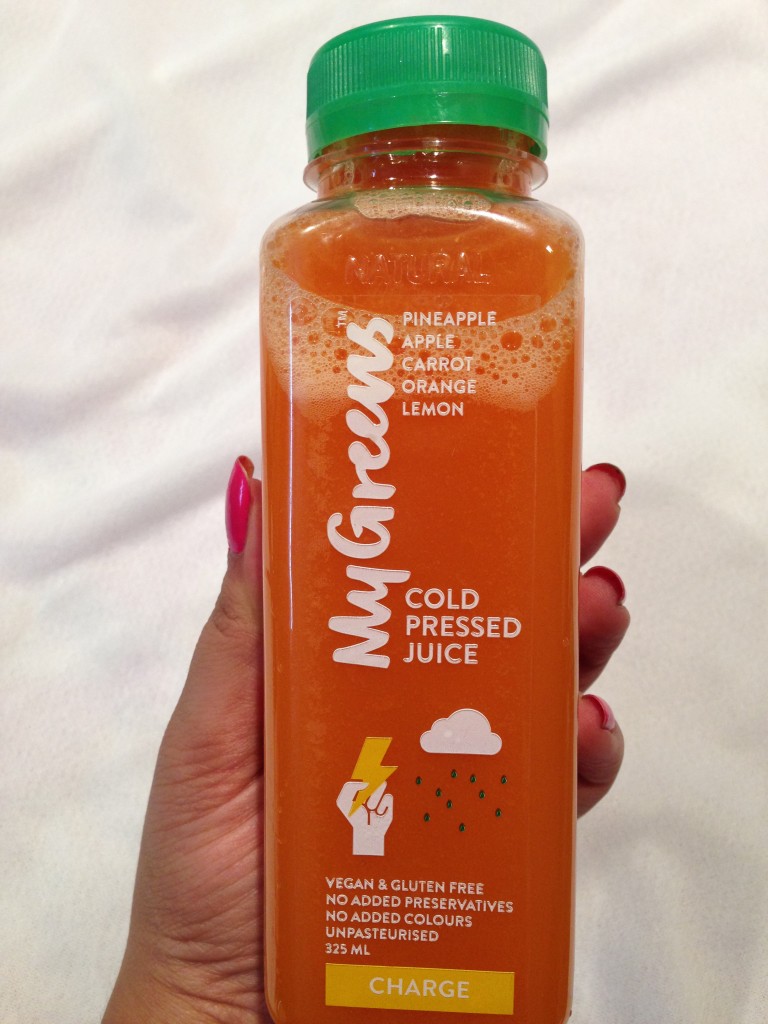 Contains: It contains Pineapple, Apple, Carrot, Orange and Lemon.
Taste: It has a very fresh, raw taste of ripe Pineapple, a tangy pop of lemon bursts in the mouth and the taste of orange carrot is overpowering. Felt like drinking a fresh juice right after plucking the veggies from the garden 🙂
About:This is a natural energiser which helps to boost up the energy levels instantly. The vitamin C present in Pineapples, orange and lemon boosts up your body's metabolism to provide a superlative vigour
2. PINE PLEASURE
Price:INR 140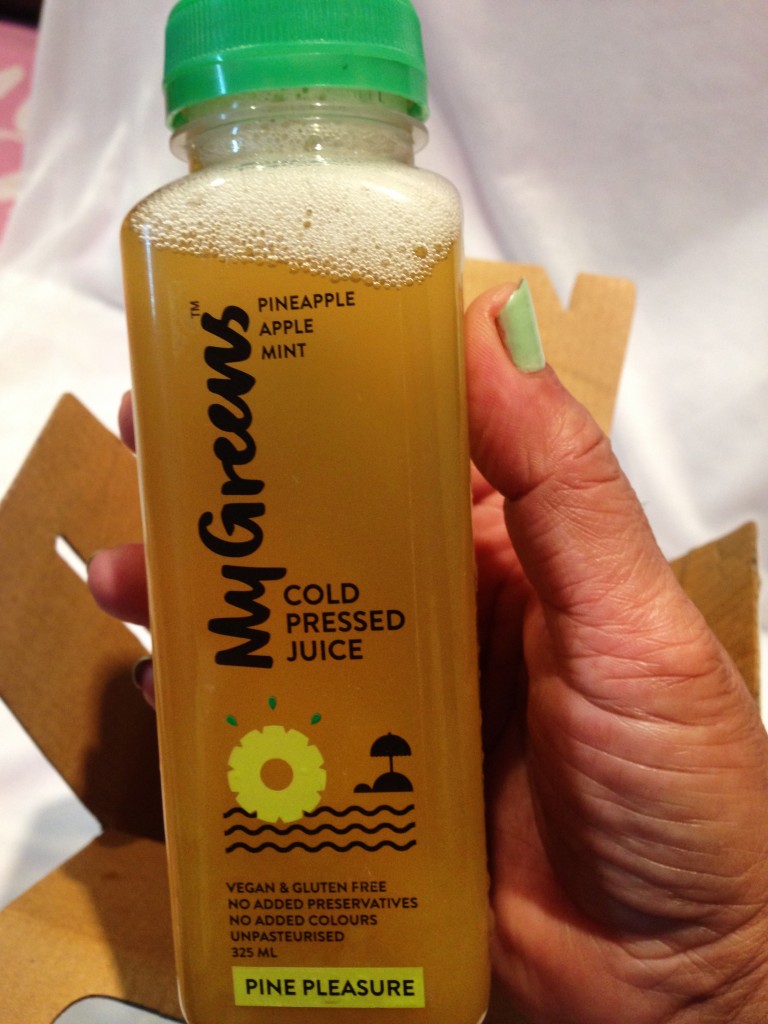 Contains: Pineapple, Mint and Apple
Taste: It tasted Tangy yet sweet. The taste of fresh, juicy and sweet pineapple was refreshing and the taste of fresh cut mint overpowers the palate after drinking this juice.
About: This juice had a flavorful and tangy mix. Rich in Vit A, Vit C and fibres, this juice helps in digestion,reduces hypertension and boosts up immune system by multiple folds!
It's a great treat for your tastebuds and perfect partner for your health!
This juice was my most favorite one out of the whole lot 🙂
3. MELON MEDLEY
Price: INR 140
Contains: Watermelon, Orange, Chia Seeds, Mint and Lemon
Taste: It smelt very tangy, fresh and has raw Chia seeds that come in your mouth in form of jelly coating. Chia seeds are a source of very good anti-oxidants, have proteins and they are also helpful in reducing weight! (WOW!)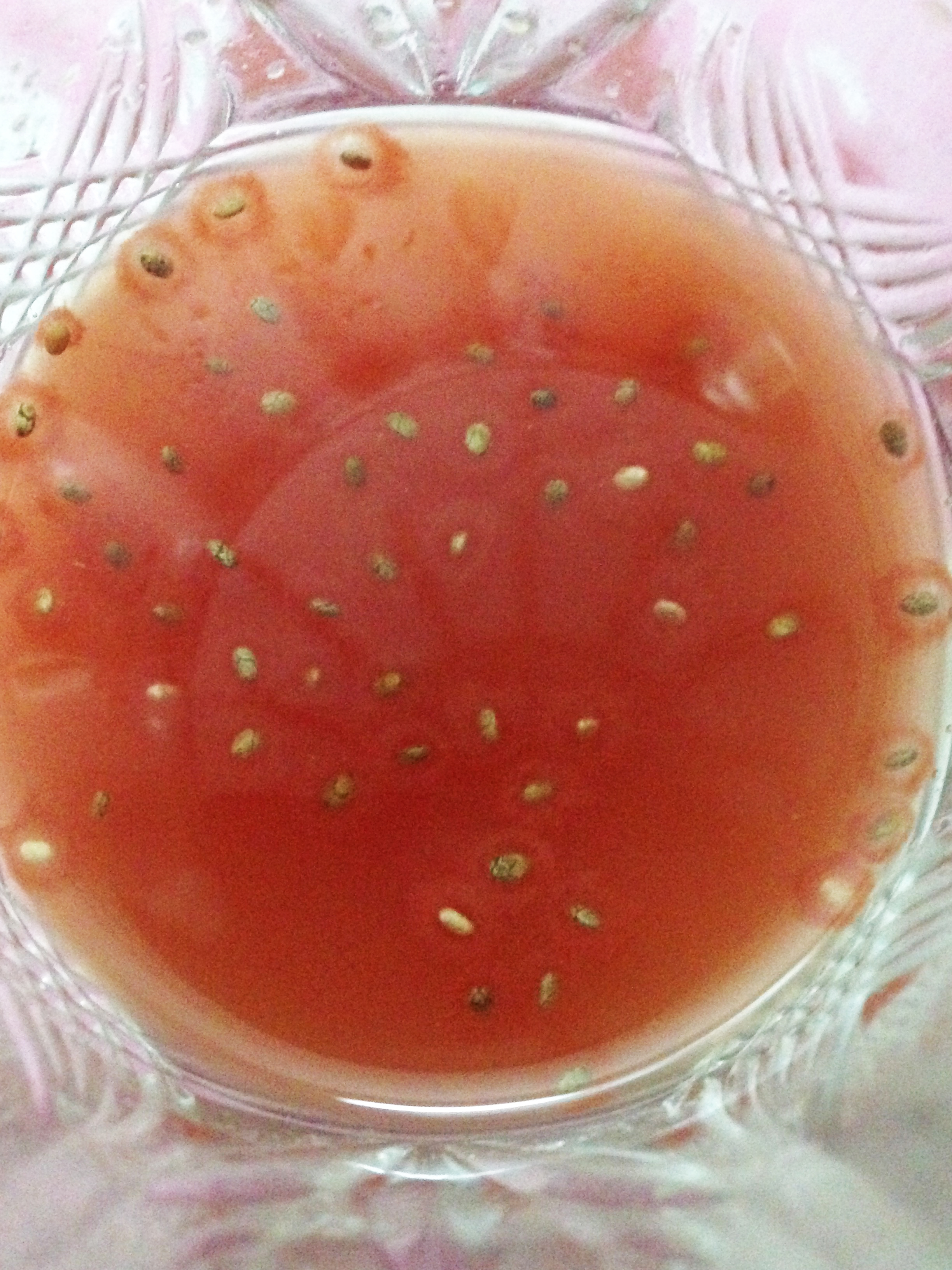 About: It is a classy thirst quencher brought up-to-date. the watermelon present helps to remove the toxins from the body and the juice has properties of anti-ageing  characteristics and helps keep the body hydrated and healthy.
4. METABOLIZE
Price: INR 150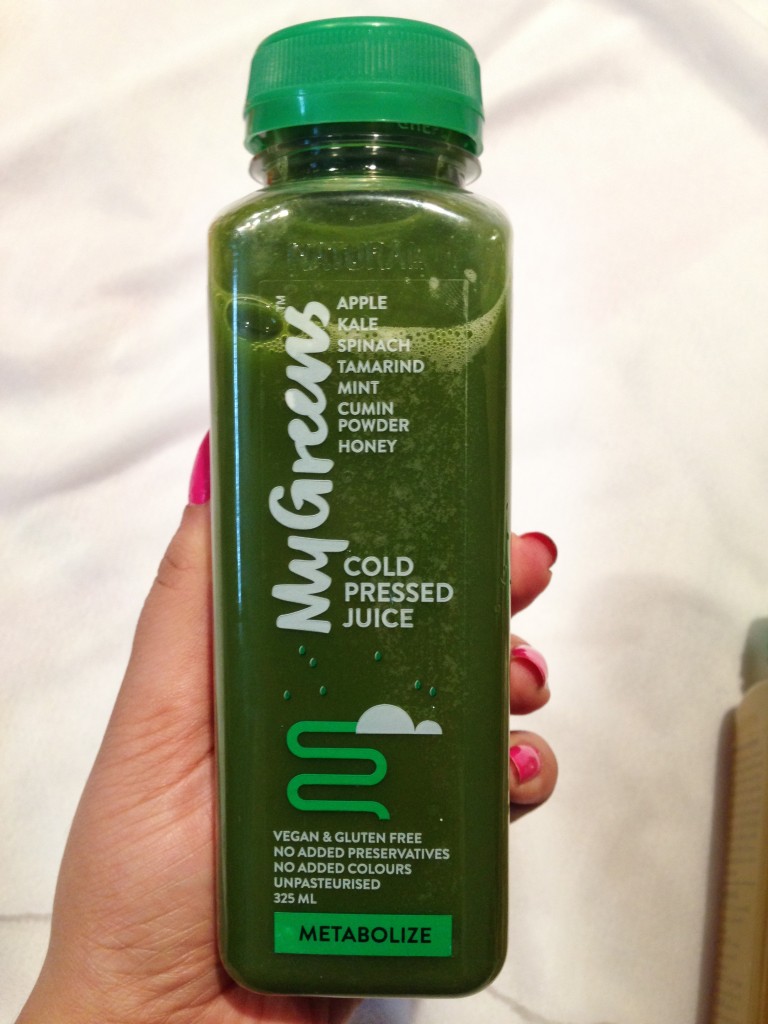 Contains: Apple, Kale, Spinach, tamarind, Mint, Cumin Powder, Honey
Taste: Like read the ingredients again! it has Spinach, tamarind , Kale and CUMIN Powder! Hence, the taste has a very strong, earthy taste to it. tastes very spinachy because of the kale and spinach yet reminds you of the Jaljeera or the Golgappe ka pani while you drink it. The tamarind and the cumin powder gives it a sudden pop and taste that energizes you instantly.
✤ These juices are Vegan & Gluten Free
✤ Have No Added Preservatives
✤ No Added Colours
✤ Unpasteurised
The quantity of each juice bottle is 325 ml and their life is 3 days from the date of manufacture.
I recommend everyone to must try out these juices and detox, cleanse and refresh your body. These juices are processed to perfection which are just the perfect step to a balanced and healthy life!!
Get your pack now here: www.Mygreens.com
They have various programs running on their site for Beginners,intermediate and advance. Must check it out!