Hello Readers!
I have been wishing to visit this one of the most sought after places in Delhi –NCR that serves authentic and delicious Italian meals. The place is known as Fat Lulu's – Located in Saket (City Walk Mall), Gurgaon (Cross Point mall & Galleria Market) and SDA market, Delhi. This place caters to satiate your taste buds that drool for some super scrumptious and authentic Pizzas, Pastas and Desserts.
Inspired by an entire generation of Italians who made Brooklyn their home and reinvented the pizza! Fat Lulus claims to bring you their great New York style pizzas with fresh hand tossed bases in whole wheat, spinach, beetroot & garlic. Along with a secret tomato paste recipe, imported meats & cheeses and the choicest of fresh ingredients and toppings, all prepared in a wood fired stone oven for that ultimate thin crust pizza pie! New York style, wood fired Gourmet Pizzas. At Fat Lulu's you can also create your own Customized Pizza from choosing the base to the cheeses & toppings!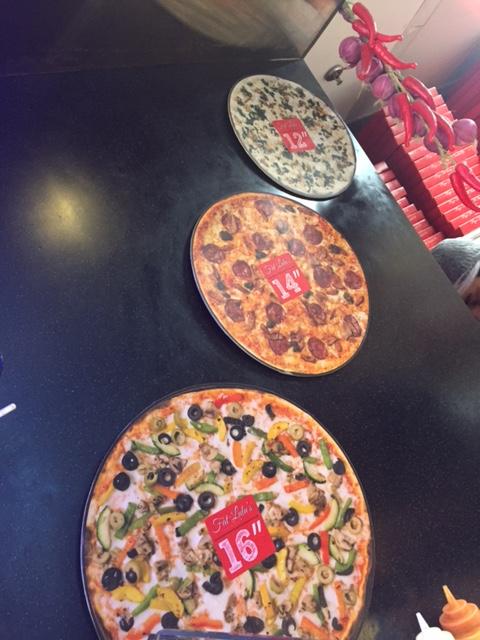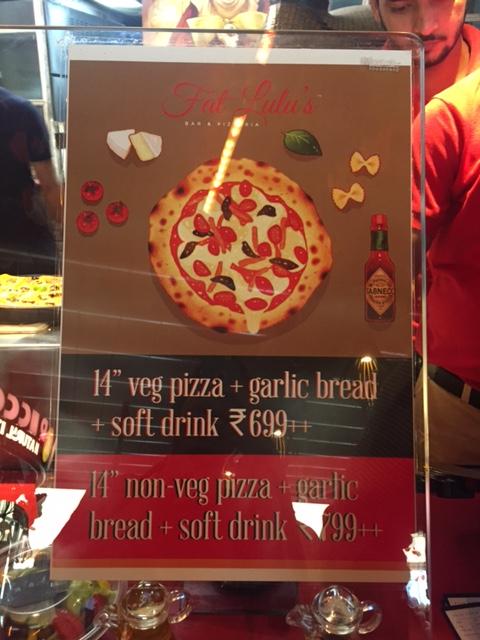 In my shear excitement, I visited fat Lulu's Saket to try out some of their delicacies for you guys.
Fat Lulu's in Select City Walk Mall is located at MY Square that's the Café Terrace of the mall which is always hustling with the booming crowd at all times.
On reaching there, I was pleasantly surprised by their warm welcome at the counter. They were very helpful in assisting me which pizza to order as I was craving something spicy that day! They suggested me to try the following that's their speciality and also is amongst the Hot Selling Items from everyday.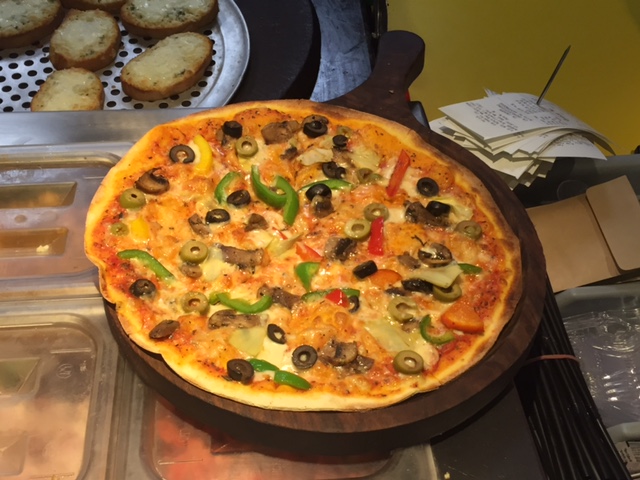 On the staff's recommendation, I tried the following:
Fire In the Hole Pizza:
Fresh baked Pizzas are a delight to heart mind and soul! This was one such pizza that you'd just love to devour if you are a spice lover like me!
Pesto dough, rolled in a thin base and topped with chunks of cheese, mushrooms, jalapenos , Roasted Garlic and chicken. This pizza is sure to leave your taste buds pepped up with it's spice quotient so high! Fire in the hole is surely gonna burn a hole in your mouth!

Delhi Masala Paneer Pizza:
A Pizza that can be a synonym for Delhi's spicy food culture is this pizza! Named appropriately to what it truly is. This Delhi Masala Pizza is a heart warming amalgamation of Paneer Tikka Masala, Fire Roasted Onions, bell peppers and generous amount of Mozzarella Cheese to top it with!
Truly a heart warming and super delicious pizza with the goodness of paneer oozing out into your mouth along with a family of Indian spiced flavours that can surely satiate your taste buds!

Garlic Bread:
Superbly done soft on the inside and crunchy on the outside were these Garlic Breads at fat Lulus. Topped with generous amount of cheese and herbs, these are the perfect sides to please your taste buds.

Paprika Wedges:
Diced pieces of potatoes freshly deep fried and sprinkled with generous amount of red chillies and spices. This side dish can give your taste buds a spicy kick and will leave you asking for more! Must try it here!

 Aglio Olio Pasta:
This pasta was however a little miss for me. Nicely cooked spaghetti pasta tossed with the goodness of all veggies including broccoli, zucchini and bell peppers, but it was still missing the taste, the flavours were not emitting, the salt was less and overall, can be missed here.

Red Velvet Cake In A Jar:
This dessert was the perfect way to end our meal at Fat Lulus.
Baked by the famous bakery – Bombaykery, this is a must must try! One of the most yummiest Red velvet cake I've tried in a long time!
Overall, I definitely recommend this place to enjoy eating at after a long day at shopping in the mall or even if you happen to be there to grab some delicious bites!
Until Next Time,
Manmeet Kaur
Beautifulfoodie