Cafe Delhi Heights, a venture by the veteran owners of the famous – Batra Banquets. cafe Delhi Heights is an extension to their first Delhi height- opened in Rajouri Garden a long ago. Even tho the first Delhi Heights in Rajouri served typical Indian and Mughlai food, the extension Cafe Delhi Heights serves everything from Indian, Mediterranean, Continental, Mexican, Italian etc.
There are 6 CDH outlets in Delhi, we went to the one in DLF Place Mall, Saket. It was a decent place with beautifully done interiors and the music was captivating 🙂
Got one of the seats by the Live Kitchen, the staff there is very courteous and polite. But only a few of them REALLY know the menu,rest are hardly aware of a few things we inquired about.
But, known mostly for it's epic JUICY LUCY Burger, we went there especially to try out most talked about speciality. We were acquainted to the fact that a single person just cannot finish it up all by himself. So we ordered one burger at a time and 2 of us started binging on it.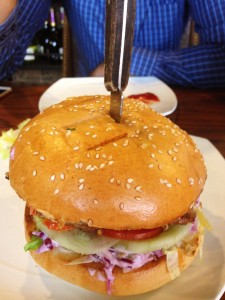 The Juicy Lucy Burger at CDH
Correctly said, this burger was just not one man's meal!
Read on why:
The Juicy Lucy Burger constitutes of 250 gms of Fresh lamb mince seasoned with their in-house rubs and spices, with a cheese and jalepeno stuffing in a sesame seed burger bun.
The instruction says- "Please let the burger cool down a little before you eat the molten cheese"
I bet only a few people would have read that instruction before hurridly taking the first bite in excitement 🙂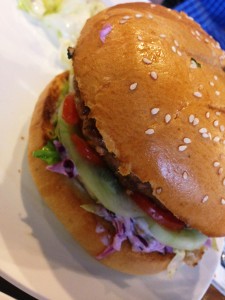 So, basically,this burger was a hugeeee size, ginormous, can barely fit in both your hands and a can take upto 40 minutes to finish it up!
The name of it is true to its characteristics! Juicy as anything. the first bite takes you to another world and the bursting flavors in the mouth just make you have it all.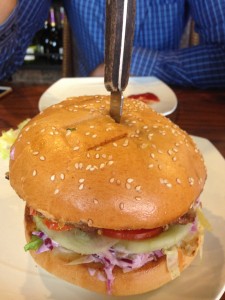 The minced lamb patty is soo juicy and fresh, alongside the fresh and perfectly stirred veggies with their in-house veggies, I believe it is the Minced Lamb patty that takes away all of it's limelight!
Also, the potato wedges that were served with the burger were awesome! Hot, fresh, crispy and what not!
The wedges are the second best thing I would like to order on my next visit to CDH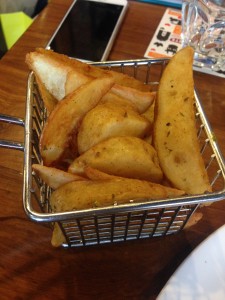 We ordered a few drinks along with it, which came in a huge mason jars and were good in quantity!
One of them was Pink Perfection- Strawberry, Watermelon, Orange and Fresh lime squeeze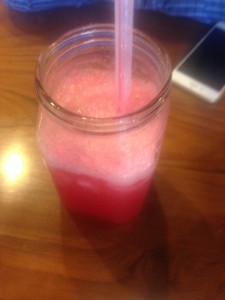 Th ewhole combo of drink and burger got so heavy on us that we finally felt like quitting half way through (btw! we were all starving-empty-stomach while we entered CDH,and just didn't anything since the whole day)
The drinks were soo pulpy and heavy, but were reallly good!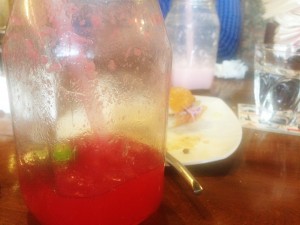 Amidst binging on all of the deliciousness, there came a time, when we just felt like giving up! And we did. We just couldn't finish it up!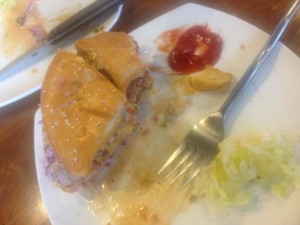 But we keep going strong and strived to finish up the giant man, which was undoubtedly amayzing and too heavy on stomach
Finally, after struggling for good 35 minutes, we finally gave up!
This is  the picture of the last bite that I left *sobbing*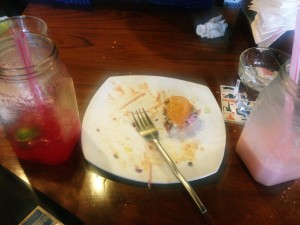 I felt like going through some real tough Man V/s Burger competition and losing it just a point mark away!
But may be next time, I am going to strategically eat it all up
Note to self; don't have any drink aside water while eating the juicy lucy!
And I am sure i am gonna satiate my full day's appetite with this gorgoes looking delishh burger!
Juicy Lucy- you win my heart bro! 🙂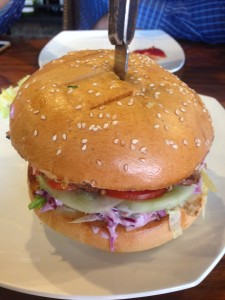 Check out their zomato page here:


Until Next Time,
Manmeet Kaur
Beautifulfoodie <3