Delhi , the capital of India is also the Capital of Food and house to numerous cuisines and variety of food and drinks. There are a lot of popping markets of Delhi that cater to a lot of good places. LIKE REAL GOOD places! One of them is the Hauz Khas Village in the South Delhi. It is centrally located and offers both rural (Hauz Khas Village) and urban (Hauz Khas Enclave, Market) environments. Surrounded by the Green Park to the west, it also is a home of the Park of Deers,where you can go and watch the beautiful deer living in their natural habitat.
Apart from this, Hauz Khas Village has a lake. Swans and ducks are among the attractions at Hauz Khas Lake – which is part of the attraction to visitors 🙂 Hauz Khas Village is now a relatively expensive tourist cum commercial area with numerous art galleries, upscale boutiques and restaurant.
One of the restaurant here is the SOCIAL OFFLINE
A completely different  amalgam of fun ambiance, cool Interiors and concept and really great food! (plus reasonable alcohol) This restaurant stands amongst the very few restaurants in Delhi who have an exceedingly unique concept and this restaurant is one of it's kind in Delhi.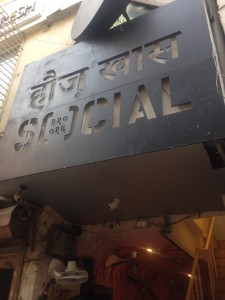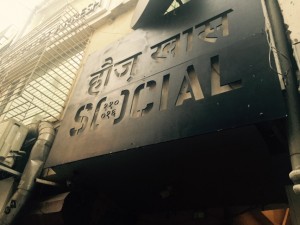 So , on entering, you get to the wide dark themed place with mixed alignment of couches, chairs tables and sofas, which i find is very Cool!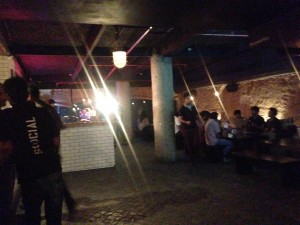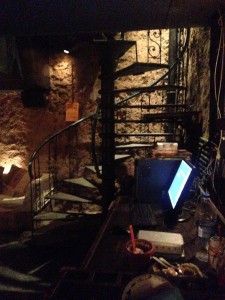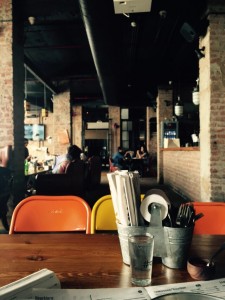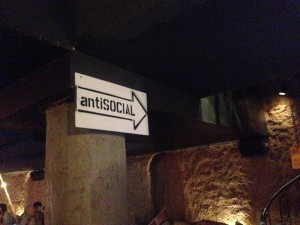 We chose to sit down on the couch with a huge table as we were in a huge group 🙂
And There came the signature plates just like the ones in which prisoners are being served food into. The Cutlery holder and toilet paper style tissue roll was cute!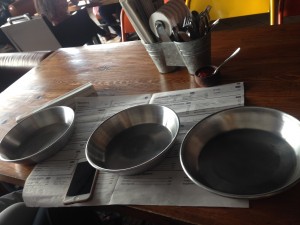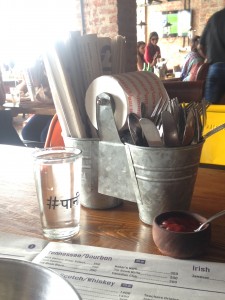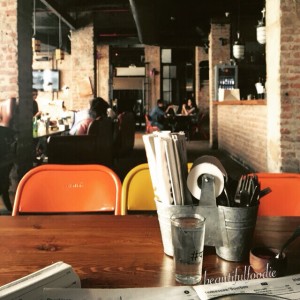 We got welcomed with water and glass saying "Paani"- Cute stuff again 🙂 The staff will very nicely make you sit onto your seat and I find that their staff is very courteous and know their menu!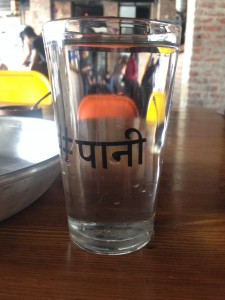 We ordered some food items and cocktails as below:
1. Bombay Bhel
This was a very spicy and freshly made bhel with the goodness of orange, pineapple mixed with other spices and lemon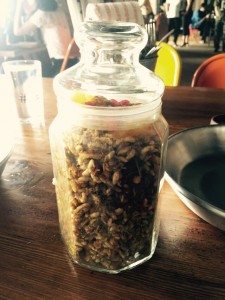 2.Double Grilled Naga Chilli Cheese Toast:
The cheese toast came in stacked on a stand which was quite an impressive presentation. However, the toasts were not too spicy and cheesy for my liking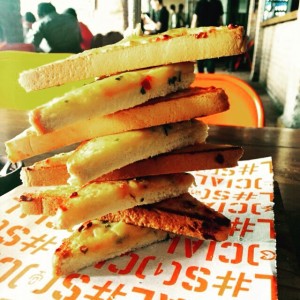 3. Chicken China Box:
This is my ever favorite noodle box with perfect blend of spices, pepper, chicken and topped beautiful and perfect fried egg- crispy and delish!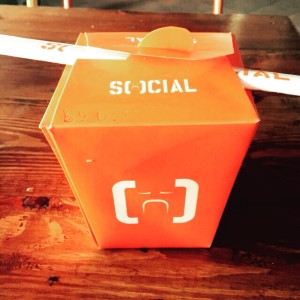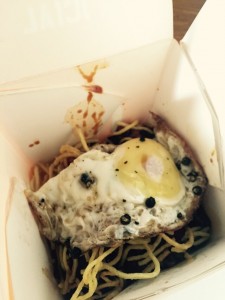 4. Chicken Burger:
This burger had very soft bun, crispy and spicy chicken patty with good amount of veggies and served with fries. Loved them!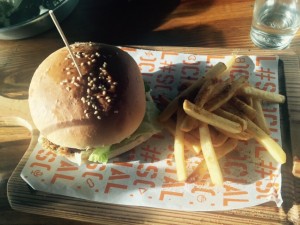 5. Peri Peri Sizzler:
This sizzler came out to be a little bit disappointing out of the whole meal. We got served with the chicken steak, fried rice and smoked capsicum and potato fries.
To my great astonishment, the steak was bland and under cooked. The fries were really good and the rice was average. the raw cut and smoked veggies weren't too delicious too.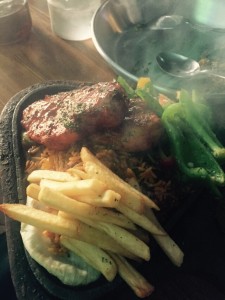 6. Mezze Platter:
This platter was a surprise package, But I honestly didn't like anything on the platter except for the fries and the salad. The pita bread and hummus along with the mayo were something tasting peculiar and wasn't just good for my palate.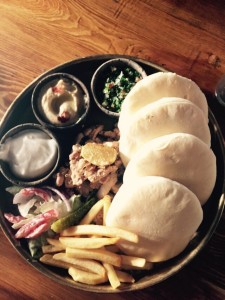 Drinks (Alcoholic and Non Alcoholic)
1. Kitkat Shake:
One word- Slurpilicious! Was perfect ending to our meal! The cute kit kat chocolate was the highlight of the shake that was topped with the good amount of whipped cream and chocolate 🙂 i am definitely adding this up as my favorite dessert at Social! 🙂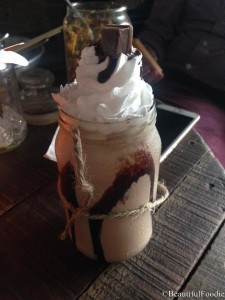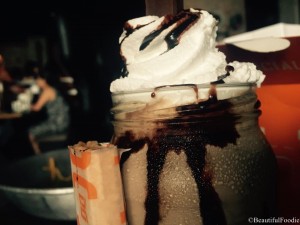 2. Spiced Guava
This drink was something! Tasted heavenly! Felt like a guava juice spiked up with a little bit of chili in it. felt healthy and delicious at the same time! But might not be everyone's palate favorite.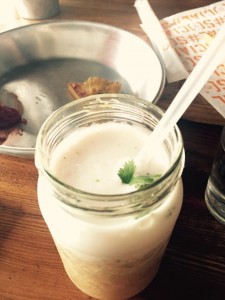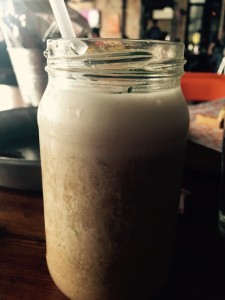 3. Deconstructed Moscow Mule
This was strong and the server demonstrated how its made. Very Cool!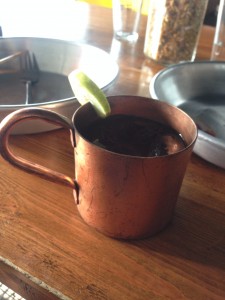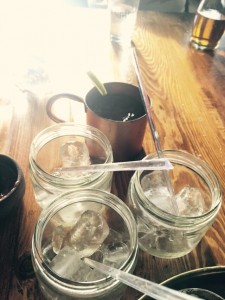 4. L.L.I.I.T
This pitcher of LIIT is BOMB DIGITTI! If you are in groups, you ought to have this one on your table! Total MUST
5. Whiskey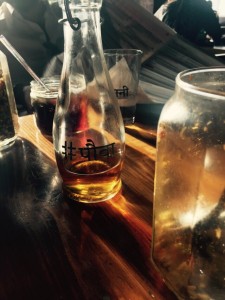 So, overall, Social Offline is a must must visit place in Delhi. They have also opened another branch in Defence Colony, which is awesome! 🙂
You can never go wrong with Social Offline- It has something to offer to everyone!
PS: their Rooftop is amazing and in coming winters, they have a set up with folding beds and quilts with the tables where you can actually LAY and chillax in the freezing weather. 🙂
Looking forward to it! 🙂
Check out their Zomato page here: